State Grid Taizhou Power Supply Company: Listen to "Nature Story" and Appreciate the Charm of Biodiversity
May 22 is the International Day for Biological Diversity. On May 20, State Grid Taizhou Power Supply Company launched an international biodiversity publicity campaign with the theme of "From Agreement to Action: Build Back Biodiversity" in Jiufeng Park, Taizhou. Through field research, exhibition and explanation of endangered animal specimens, volunteer services and other activities, the campaign demonstrated the charm of all living things to the public and advocated common care for nature, aiming to mobilize all sectors of society to protect biodiversity and raise public awareness of ecological and environmental protection.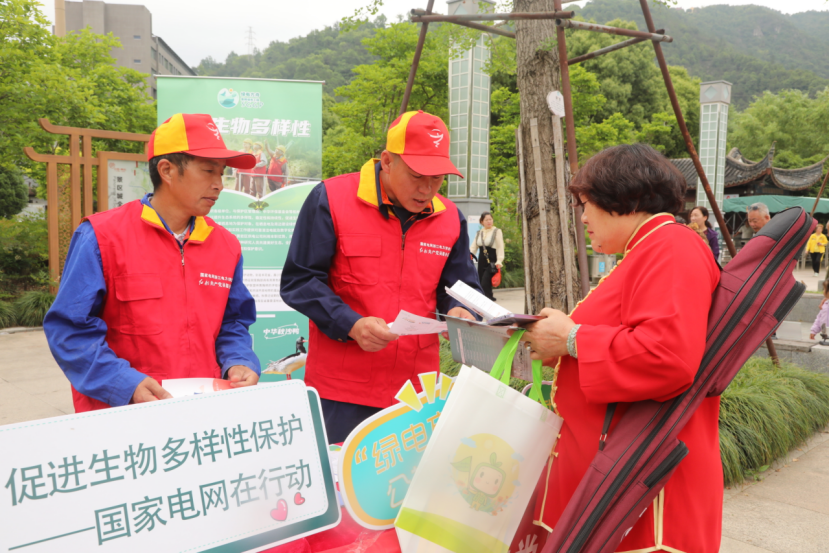 The publicity campaign on International Day for Biological Diversity is the epitome of State Grid Taizhou Power Supply Company's efforts in protecting biodiversity. At present, State Grid Taizhou Power Supply Company focuses on the key public welfare brand project of the "Green Power Ark" of State Gird and contributes to the protection of biodiversity based on State Grid's mission of empowering green development and ensuring power supply.
Taizhou Jianyang Lakes National Urban Wetland is an important wetland in Zhejiang Province. Yellow-breasted buntings, which are listed as national first-class key protected animals and have been upgraded from "endangered" to "critically endangered" by the International Union for Conservation of Nature, "visit" here during migration seasons for many years in a row. The presence of rare animals has prompted State Grid Taizhou Power Supply Company to take the initiative to make way for wetland animals to inhabit and migrate. The route across the wetland is included in the relocation plan to help ecological restoration and create a bird paradise where the water and the sky merge into one color for egrets flying homeward.
In recent years, the surrounding ecological environment has continued to improve. During this year's "Bird-Loving Week", State Grid Taizhou Power Supply Company and Taizhou Terrestrial Wildlife Rescue Center jointly rescued two silver pheasants, national second-class protected animals. They strayed into a residential area and were successfully released into the forest at the most suitable release site.
Natural gifts should be carefully protected. To cherish the patronage of animals is an important indicator of the improvement of the environment, and the most direct reflection of the harmonious coexistence between man and nature. Next, State Grid Taizhou Power Supply Company will exert its own advantages, devote itself to protecting biodiversity and building environment-friendly power grids, and actively explore the path of harmonious coexistence of power grids, different biological species and different ecosystems to charge for a better life and empower a beautiful China.
Company: State Grid Taizhou Power Supply Company
Contact Person:Yang Jingjing, Feng Jing
Email: 610464408@qq.com
Website: https://www.zj.sgcc.com.cn/p1/index.html
Telephone: 13564103800
City: Taizhou, Zhejiang Province
Disclaimer: This article is reproduced from other media. The purpose of reprinting is to convey more information. It does not mean that this website agrees with its views and is responsible for its authenticity, and does not bear any legal responsibility. All resources on this site are collected on the Internet. The purpose of sharing is for everyone's learning and reference only. If there is copyright or intellectual property infringement, please leave us a message.